Samsung MU8000 TV Random Flashes Fixed
Samsung MU8000 TV Random Flashes Fixed
Samsung MU8000 TV Random Flashes Fixed, are you having problems with random flashes on your Samsung TV? Like many others out there we had this problem and there didn't seem to any definitive fixes that we could find. So after much experimenting and frustration we believe we have found a simple fix in the way the settings are configured on the Samsung MU8000 55 inch TV which at the very least will reduce your flashes to a point of being tolerable. So of course the big question is how did we manage to get our Samsung MU8000 TV Random Flashes Fixed? We plan to show you screenshots and offer up text information to make this really easy for someone to do this themselves.
A description of our setup
Samsung Series 8 MU8000 55 inch UHD HDR Smart TV (Running Firmware version 1270.3, although we also found 1269.x also worked fine once we applied the correct settings combination which will be described on this page)
APC Back ups Pro 1500 UPS to protect the TV against brownouts and various potential power issues, also the UPS offers power stability which should improve flashing problems if they are power related.
APC Power Bar, this was used as an easy option to cold boot the TV in the event a problem such as an app lockup occurred or maybe the TV just needed a cold boot, after all these smart TVs are like many other modern electronic devices, sometimes a cold boot helps. Here is a link to that power bar APC Powerbar. You will find it has a handy switch on the top of it which allows a user to fully terminate the power to the devices plugged in to the powerbar, which in this case is the Samsung Series 8 MU8000 55 inch UHD HDR Smart TV.
Apple TV 4k
Xbox one X
Canada Computers brand HDMI cables, here is a link to those cables Canada Computers HDMI Cables.
Things we tried that didn't make a difference.

An HDMI switch to act as a middle man between the TV and the devices plugged in to it. We had hoped perhaps if the HDMI switch acted as a middle man between the devices and the TV it might fix the random flashing problem, the theory was there could have been a communications issue or handshake problem between the TV and the devices connected to it, which in this case were and Apple TV 4k and an Xbox one X.
Various versions of HDMI cables, we had thought perhaps there was a compatibility issue with the cables and the Samsung TV. After all was said and done the HDMI cable choice does not appear to have made any difference as long as the cable is a new version of HDMI cable and is set to handle all the modern protocols of HDMI communication. Please see the link a little ways up the page to see which cables we ended up sticking with, for no other reason but they were good quality, not very expensive and they didn't cause any problems.
We had our first Samsung One Connect box replaced in the early days of troubleshooting this problem, it did not help in our case.
The reason we mentioned what didn't work for us as well as what did, is because every scenario could be different and maybe some of our unsuccessful attempts to figure this out might help others find a solution with similar problems on their Samsung TVs.
So now on to the settings that made all the difference
The two main settings changes that we found which impacted the random flashes issue were in the Expert Settings of the Samsung TV Picture menu, we made sure to have Digital Clean View ON and Contrast Enhancer turned OFF. Then we tested each setting change on its own, If we turned Contrast Enhancer back ON again, the random flashes came back within a day or two, we then turned Contrast Enhancer OFF then the flashes only showed up once or twice in over 6 months, but those possible flashes were so mild and fast, it's hard to say if it was just a frame drop during video playback or the old flash problem come back for a split second, either way it is definitely much less noticeable than it used to be when Contrast Enhancer was ON and much less frequent.
Next we turned Digital Clean View OFF and within a week or so we noticed a new problem which never occurred in the past when Digital Clean View was set to be ON. We noticed a short 2-5 seconds black screen issue when playing videos on the our Apple TV 4k device, which some others have mentioned on some forums. After this experiment was completed, we turned Digital Clean View back ON again and we have not seen any black screen issues for a number of weeks, so it looks like that setting might be linked to the black screen issues some have been reporting on various forums.
Of course we turned off any power management features such as auto dimming or auto sleep settings on the Samsung TV menus to first try to eliminate a possible power management issue, as a general rule it is better to turn off auto dimming and auto power off or sleep or any other power management feature since those tend to cause problems of their own.
Below are a few screenshots of the Picture Settings>Expert Settings of the Samsung MU8000 TV menus, we hope this will help clarify what's been done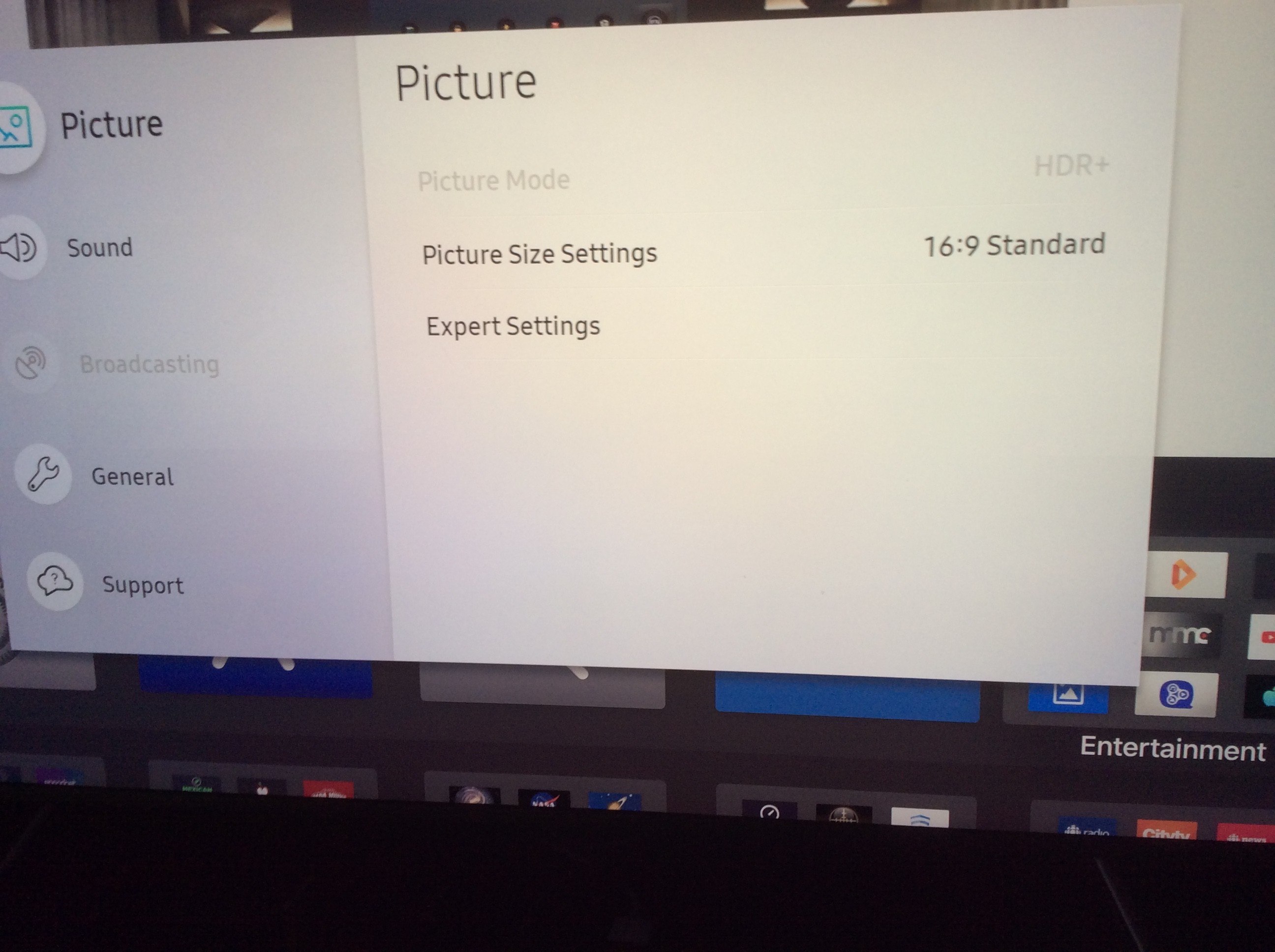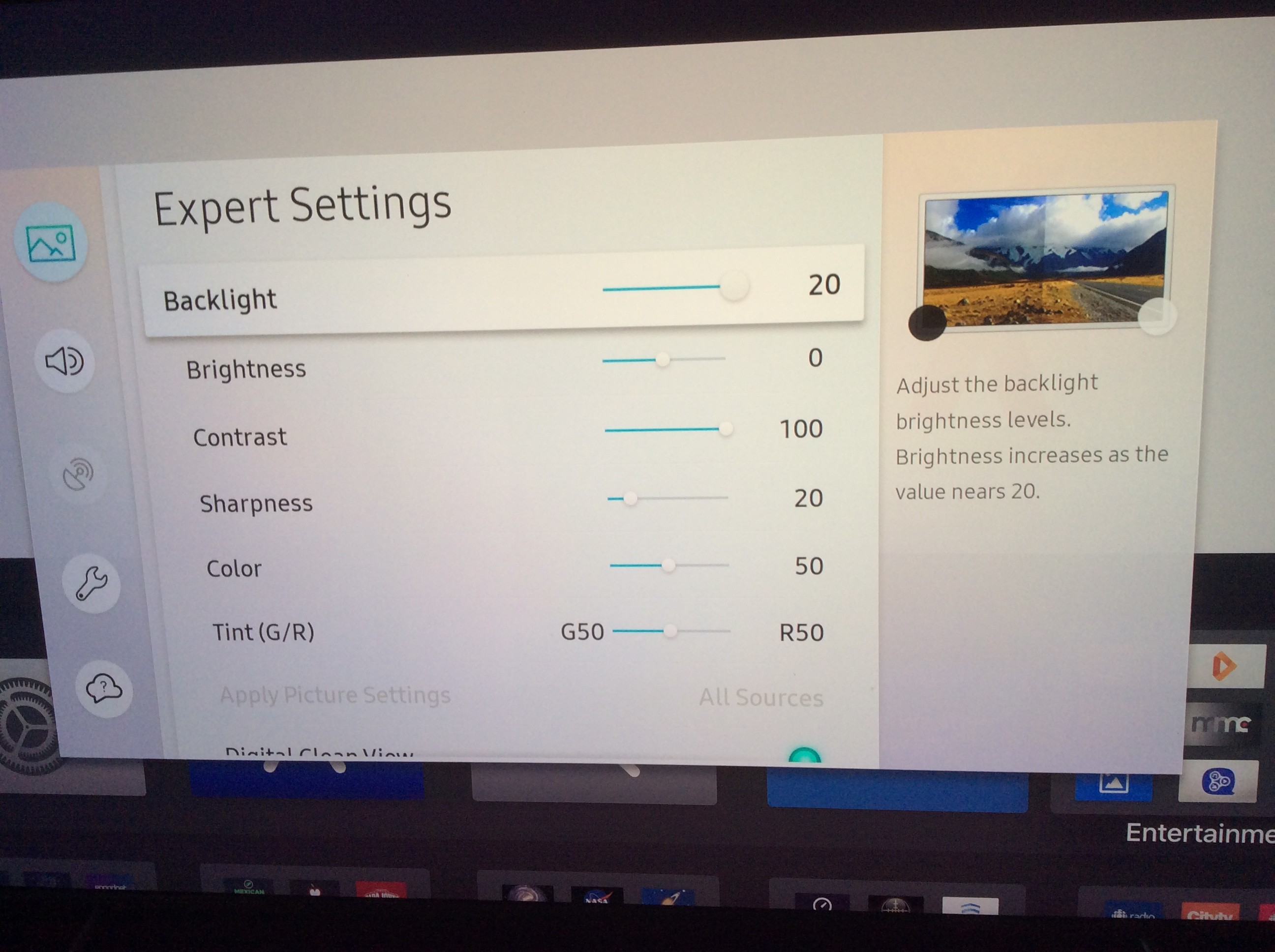 Below is the important screenshot, notice how the Contrast Enhancer is OFF and the Digital Clean View is ON. Those two settings seem to make all the difference.
We also have HDR and UHD enabled for the Apple TV and Xbox One, however we did turn on the Game Mode feature for the Xbox One.