Home Office and Small Business Computer Tech Support
Home Office-Small Business Computer Tech Support
Having the right Home Office-Small Business Computer Tech Support can be crucial to the smooth operations of your business.
These days technology is everywhere and all businesses run on computers in one form or another. If a computer which you run your business on is misbehaving or running slow, it will slow your day down and reduce your productivity, which results in a lot of wasted time.
Below is list of questions to ponder and consider if there is a better way to running your Home Office or Small Business.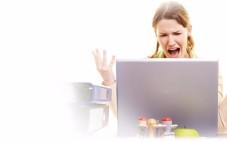 Is your computer causing you grief?
Is your computer performing slower than you'd like?
Do you feel like you're wasting too much time using technology or it's not really helping you?
Is it possible you have a virus you can't get rid of?
Are you looking for help with your computer tech support?
We can help you solve all these problems and more.
Don't Wait Until Your Computer Completely Dies.
Keep in mind everyone has their strengths and weaknesses, most definitely you can do your thing extremely well. But unless that thing is computer tech support, you would be much better off to hire an expert to help you with your tech support needs.
Many people think they can perform their own computer repairs by Googling a problem and some in cases that might work, but more often than not, people end up going to a website that looks like it's designed to help and yet it's the exact opposite and if you don't have the experience, how do you know if the site is safe or not?
Nowadays, there are more and more ways the bad guys find to hack your computer or personal/business information, is that something you want to risk by performing your own tech support?
Let Technology Help You, Not Hurt You.
With the right Home Office-Small Business Computer Tech Support, you can focus on running your business, instead of the problems you face when your computer fails you.
Home Office-Small Business Computer Tech Support is our specialty, we know that your time is valuable and you'd rather be away from the office if you had the choice, we can show you ways in which technology can help you gain a better work life balance.
We can setup devices for you, which will allow you to work away from your office as if you were actually at the office, while keeping your data safe and private. This allows you the freedom to get out and enjoy life, but still have the ability to work when you need to, in order to keep your clients happy. It also gives you the piece of mind that your data is safe, not sitting on some "cloud server" which you have no idea where it is, or what could happen to your data.